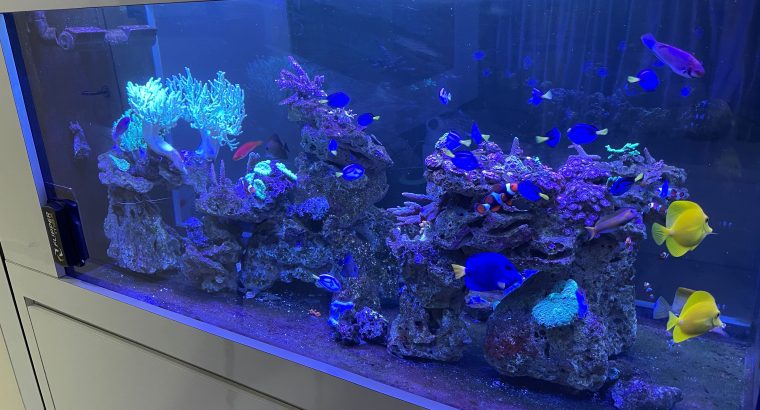 Hi everyone, today I'll be sharing my own unique short experience about building a custom tank compared to a ready make tank, and hopefully, it will help someone decide on their next project.
To be frank, I would strongly advise to only go for a customize tank build, if you have experience with setting up a marine aquarium before with some experience of the problem and issue of your last build and have also done some research of your own before deciding to go into this route. There are many reasons for this statement however I'll drop the pros and cons below for you to compare.
PROS
Custom size to fit in your space. You can choose to be as tall as you if you want, or a customize size to fit a unique corner in your house.
Enable customization and your own design of the Sump for your equipment.
Able to choose your own color, wood, lamination , piping and types of glass of the tank and many more depending on what you want.
Limitless potential depends on how you want to design.
Able to design where the overflow is. (Bean Animal, Corner, Center, etc…
Able to expand your creativity allows you to proudly show off your idea.
Price could be cheaper in my opinion, comparing to a branded ready make setup.
CONS
If a non-Standize size tank is made, there could be an issue of finding the suitable equipment for it, i.e; light and stand come in standardise size in 2ft,3ft and 4ft etc..
Risk of water overflow from the system if we design the system ourselves without planning for any emergency siphon break ect, however, this can be solved if the tank makers is experienced on this.
It could be Harder to sell the tank away in the event of decommissioning of your existing tank, as custom size only fit in your own SPACE and maybe not other people's house.
Longer waiting time/duration to receive the tank, as a customize project will generally require more time to build the tank comparing to a ready-made one.
Enough said! Now I will personally show you how I built my own custom tank!
I've engaged with Aquarium Artist to build my tank because of the consistency of the integrity of the tank (Especially the piping because it is removable and won't leak!)
Why don't we go through with steps so it will be easier to understand.
Step 1 : Choosing a location / Planning stage.
I've decided the location of my new build to be a partition between my living room and my dining table. Most importantly, the selected location must have enough power point to cater for the numbers of equipment that I will be using. Although it blocks the view of the TV, the tank is the VIEW too! I personally find that it will also look nicer as it connects the corridor together and whenever i return back to my home, I would be greeted by the view of my beloved tank t. Brillant!
Step 2: Measurement.
Plan out your desired size of the tank you wish to have. Invite the tank maker to your house to double confirm the size incase we measure wrongly (Is an assurance as we are not really good at measuring unless we do it often).
Do note to give the tank maker the design you want including the inches of the tank glasses, color of the piping, color of silicon, placing of the bracing and how high is the hood, etc…
Step 3: Choosing your equipment.
Plan your types of equipment that you wish to have in your new build. Not only this will allow you to plan your budget, it will also allow the tank maker to know and cater the space for it during the construction of the sump and tank etc.. In any case, do try to discuss with your tank maker and hear his opinion on the design and equipment during the planing stage, as this will helps avoid any problem that you might encounter in future. Try to choose a bigger tank that your budget allowed, as Bigger is always better especially in a marine tank setup, but it also depends on your space as well. After choosing your equipment or letting your tank maker know your equipment list, he will then be able to cater the sump design for the equipment used.
Personally, I prefer custom fit as I do not like to see empty space in my sump.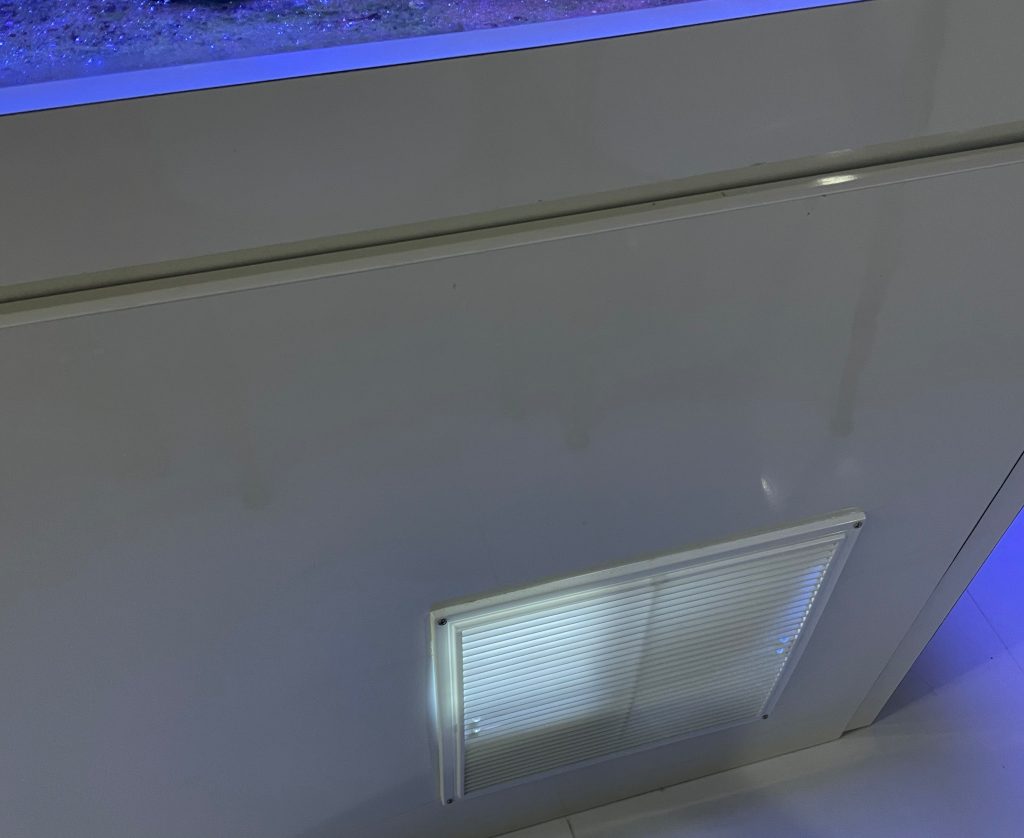 Step 4: "Skin and Emblem."
Ok not really emblem but making a reference to gaming. Skin is choosing the color of your cabinet and hood, well also to choose the type of glass you want your tank to make of.
A crystal glass will result in better clarity compared to normal glass. Best to ask for a sample of each to compare so you won't make the wrong choice and regret later on.
And also to choose the type of door you want like hinges, magnetic or sliding door. For mine I choose a magnetic door because I want it to be minimal.
Step 5: Getting update (Optional).
There might be instances where some problems arise if due to some miscalculation or change of equipment, i.e our skimmer is too big to put into your sump or you might suddenly recall you want the silicon of the tank to be in black instead of transparent or you want the pipping to be in a different color, that is where you have to inform your tank maker in a timing manner for them to change it for you. For a ready make tank, this is definitely not posibble.
Step 6: Receiving the tank.
This is the last step of making a custom tank. When we receive the tank, try to insect for any crack or scratch on the glass or cabinet, conduct a water test to see if there is any leak.
That is all for building a custom tank! Please understand that it is from my opinion of building a custom tank. The most important of success of keeping a marine tank is more on your discipline on water change or measuring parameters.
Thank you.